Philadelphia shooting: Live updates - CNN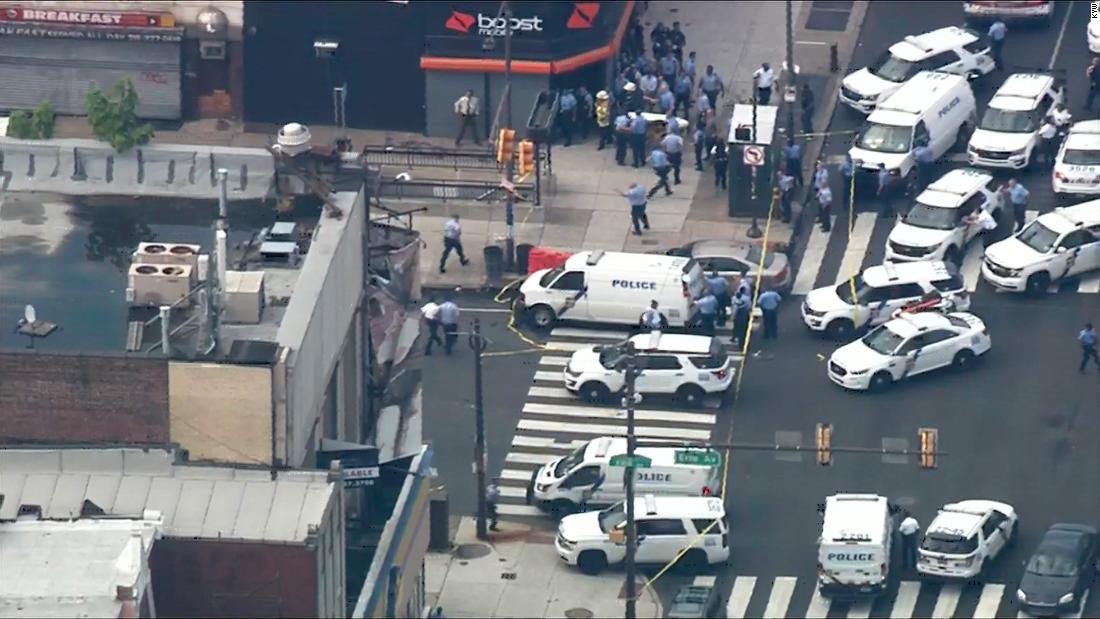 SWAT officers escorted four women out of the building where a shooter has been holed up during a standoff with police, according to CNN affiliate KYW reporter Greg Argos, who is on the scene.
Argos reported that the women said they were on the second floor of the building. He described the women as "visibly upset, crying, as they were escorted down the street."
"I think, I think, there were all these cops, they're good people, don't say nothing bad about them, they kept us safe the whole time, the whole time, they kept us safe," one woman told KYW.
Two officers remain trapped inside the house where the shootout first erupted this afternoon, Philadelphia Police Commissioner Richard Ross tells the Philadelphia Inquirer.
Philadelphia officers are trying to communicate with the shooter, a police sergeant said.
One of the complications for the SWAT team at the scene of the shooting is the concern of the shooter's location — and the safety of any officers inside.
At one point during the shooting, two police officers were barricaded on the second floor of the building, according to two law enforcement sources. It's unclear if the officers remain barricaded.
According to one of the sources, a suspect appeared at one point to be on the first floor and was firing through walls.
Philadelphia officers are trying to communicate with the shooter, a police sergeant said.
They are "imploring him to surrender and avoid further injuries," Philadelphia Police Sgt. Eric Gripp tweeted.
At least during the hours-long standoff.
The lockdown at Temple University's Health Sciences Center has been lifted, the university tweeted.
Some context: Ray Betson, a spokesperson for Temple University, said the Health Sciences Center is about seven to eight blocks from the reported scene of the shooting. It's also about two miles away from the main campus.
A shooter involved in a standoff with police is still armed, according to Philadelphia Police Sgt. Eric Gripp.
"UPDATE 7PM - Situation is active and ongoing. 6 PPD Officers shot - continue to receive treatment at area hospitals. Shooter is still armed inside location. AVOID AREA," Gripp tweeted.
Multiple police officers were injured during a shooting in North Philadelphia Wednesday evening.
It's still an active situation and a lot of details are not clear, but here's what we know so far:
It started as a narcotics call: Philadelphia police were first called to the scene for narcotics activity, Philadelphia Police Capt. Sekou Kinebrew told CNN affiliate KYW.
The injuries: Six police officers have been shot, according to a federal law enforcement official. They suffered non-life threatening injuries.
The standoff: As of 6 p.m. ET, the suspect was still shooting.